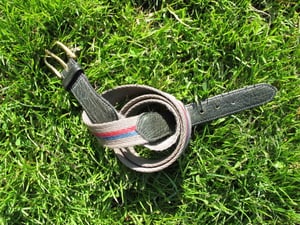 $

9.95
What do we have here? It's an olive coloured cotton belt with red and blue stripes. The end bits are a dark green leather, and the buckle is brass. This is an excellent summer belt, throw it on some rolled up jeans or khakis, maybe some brown boat shows, you're golden.
There's a bit of wear on the back that doesn't really affect the look or the structural integrity. Image of that below.
Smallest hole is about 32" and the biggest hole is about 34". You're the man, cool guy.